Welcome to The Eminence in Shadow Wiki!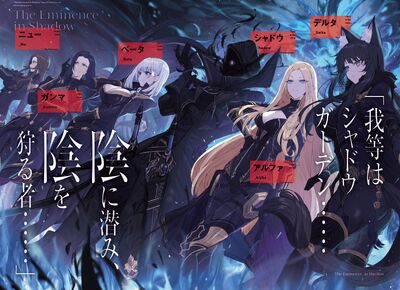 Welcome to The Eminence in Shadow Wiki!
Your online source for information on the Web Novel, Light Novel, and Manga of
The Eminence in Shadow. We are currently editing:
This wiki is dedicated to The Eminence in Shadow (Kage no Jitsuryokusha ni Naritakute!, To Be a Power in the Shadows!), an epic comedy action isekai about Cid Kagenou, a boy who wants to enact his powers in the shadows of the real world. With his organization, Shadow Garden, he forges a path through the darkness, all while being oblivious to the truth he's uncovered!
The original light novel is written by Daisuke Aizawa and illustrated by Touzai. It is licensed in English by Yen Press LLC.
Information
Getting Started • Guides and Tutorials • To Do • Community Portal
We're a collaborative community website that anyone, including you, can build and expand. Wikis like this one depend on readers getting involved and adding content. Check out any of the above links to get started, or ask the administrators or Wiki Manager if you'd like a bit of help or direction on where to start.
Synopsis
---
One big fat lie and a few twisted truths.
Even in his past life, Cid's dream wasn't to become a protagonist or a final boss. He'd rather lie low as a minor character until it's prime time to reveal he's a mastermind...or at least, do the next best thing-pretend to be one! And now that he's been reborn into another world, he's ready to set the perfect conditions to live out his dreams to the fullest. Armed with his overactive imagination, Cid jokingly recruits members to his organization and makes up a whole backstory about an evil cult that they need to take down. Well, as luck would have it, these imaginary adversaries turn out to be the real deal-and everyone knows the truth but him!
Source: Yen Press
Explore the world of The Eminence in Shadow